Reunion Date set Oct. 16 2009
Things are progressing for our second reunion Paul Kulba has done a great job in finding our site we have use of the upstairs room from noon till 9:00 pm if need be. Will be posting some sort of agenda and things to do in the future. Think we will be having another Dutch Auction have been working with a new vendor for the "Moose Creek Store" part of our web site and will be bringing some of that stuff to auction off. Check out the rental links for the area. As this is a gated community there is a selection of short term houses and condos for rent. If you prefer to rent a Motel room that will be outside the community and we must correspond ahead of time to have a "Visitors List" for the entrance. Again here are two links for rentals.
VillageVilas.com or phone 1-800-738-7368 talk with Kurt
Or HotspringsVillagehomepage.com/nightly/Rental.php contact here is Helen Seekatz at Triple D Realty at 1-800-847-6640
For now I will post the Menu that Paul has forwarded and 2 pictures of the "Last Chance Lakeside Cafe". And here is a web site for " Last Chance" http://www.lastchanceofhotspringsvillage.com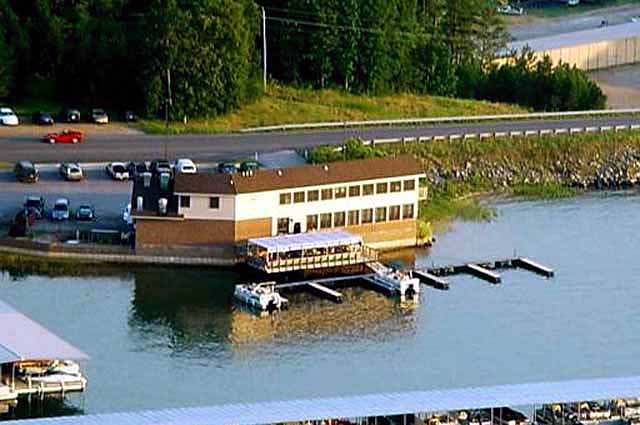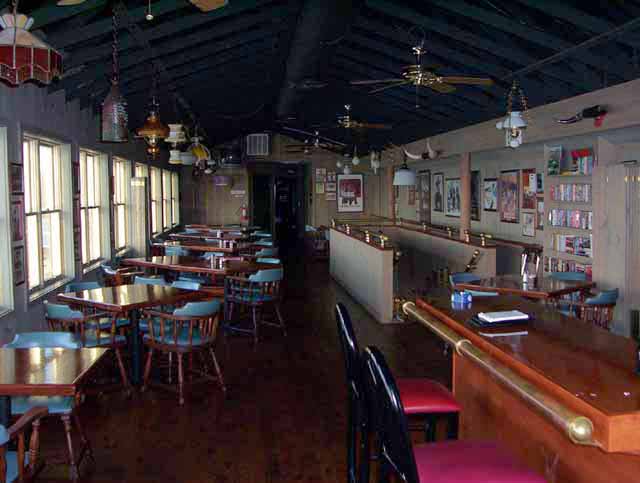 This is the upstairs room picture shows about half of it.
Last Chance Lakeside Cafe'
488 Ponce De Leon Dr. Hot Springs Village, AR 71909 922-4870
922-4870
488 Ponce De Leon Dr. Hot Springs Village, AR 71909 on BEAUTIFUL Lake Balboa
Last Chance Lakeside Cafe'
Broasted Chicken Dinner
Fried Chicken at it's BEST! Pressure fried to a golden brown. Served with broasted potatoes and slaw 1/2 Chicken - $9.95 2 piece dinner - $7.95 8 piece bucket (chicken only) - $9.95
From the Woodlands Auditorium: Take a left (east) on Desoto Blvd. Go 5.7 miles to Ponce De Leon Dr. Take a right. Go 1.3 miles to Last Chance (on the right). WE'LL SEE YA' THERE!
$1.25 DRAFT BEER EVERYDAY TILL 6.OO!
Bring your laptop! FREE WI-FI Hotspot!
HAPPY HOUR SAT & SUN11:30 - 6:00 MON- FRI 4:00 - 6:00
Signature Burgers
1lb. Stuffed Burger
same as the 1/2 lb. stuffed burger, only twice as big. please allow extra cooking time
$12.95
1/2lb. Stuffed Burger
our burger hand stuffed with your choice of one or all of the following: cheddar cheese, bleu cheese, mushrooms or onions
$8.95
Bacon Cheeseburger
3 strips of bacon and your choice of the following: American, cheddar, pepper jack or Swiss cheese
$8.95
Black-n-Bleu Burger
NOW THAT'S A SPICEY BURGER! topped with bleu cheese and plenty of spicy cajun seasonings
$7.95
Cheeseburger
choose one of the following: American, cheddar, pepper jack, Swiss, or bleu cheese
$7.95
Hamburger
1/2 lb. of full burger flavor
$7.25
Cowboy Burger
Smokey BBQ sauce, bacon, grilled onions and pepper jack cheese
$8.95
Specialty Steaks
12 oz Rib-eye
Among steaks, the rib-eye is the most flavorful and is the most juicy cut of steak due to it's marbelizing
$21.95
10 oz Ground Steak
Our ground steak is smothered with sauted mushrooms, onions and gravy
$11.95
The Famous Last Chance Filet Mignon
8oz. handcut Omaha Steak will please the most demanding pallet, topped with mushrooms sauteed in our secret sauce!
$21.95
Poultry
Southwest Chicken
grilled breast of chicken served with mushrooms, onions and pepper jack cheese
$11.95
Chicken Breast Filet
Boneless, Skinless Chicken Breast seasoned and grilled to perfection
$10.45
Country Fried Chicken Filet
Hand breaded and seasoned Boneless, Skinless Breast Filet fried to golden brown, served with Country Style White Gravy.
$10.45
Broasted Chicken Dinner - 1/2 chicken
Fried Chicken at it's BEST! Pressure fried to a golden brown.
$9.95
Seafood and Fresh Water Fish
Catfish Dinner, USA Farm Raised Catfish
breaded and deep-fried to a golden brown
$9.95
Coconut Shrimp
lightly breaded with our very own coconut breading and served with our special sauce
$16.95
This is the "water side" view of the Last Chance the room that we will be using covers the length of the windows you see on the main portion. Also not the outdoor deck below weather permitting we could use that area also
Fried Shrimp
lightly breaded with Japanese bread crumbs then fried to a golden brown
$15.95
FAMOUS Last Chance Grouper Sandwich
Hand-breaded, deep fried grouper with deep fried onions, American cheese and served on our very own jalapeno cornbread-bread - It's incredible!!!
$8.95
Nashville 2008 A start of a tradition
Lets keep it alive!
Any of you Guy's out there that have some computer savvy and are willing to help with the search for guys in the 63, 65, 67 or 69 time frame or later. We now have a roster's from all of these years to research. E Mail webmaster@a-2-562.org and we can chat on how to do this. An alternate E Mail is rbtv@tds.net.