Welcome
This site is dedicated to preserving the memories from those who served as the first line of defense during the Cold War era. Site Tare or A-2-562 was one of 5 Nike Hercules Batteries that surrounded the Fairbanks/Eielson AFB. The Anchorage/Elmendorf AFB area had an additional 3 sites. Constructed in the late 1950's and becoming operational about 1959 these sites served as our first line of defense for Eielson AFB which was home to a squadron of KC-135 Tanker Aircraft and a detachment of F-4 Phantom fighters. Also stationed at Eielson were a group of "Group of Black Aircraft" namely RB-47's,and U-2'S. The Fairbanks sites were operational from 1959 till the early 1970's sites at Anchorage remained operational till 1979. Of all the sites the most intact is "Site Summit" at Anchorage. At site Tare A-2-562 the launch bunkers have been taken over by the Army Corps of Engineers they serve as storage for the Chena Lakes flood control project. Battery A became operational 08:00 10 May 1959 making it the first Nike Battery in Fairbanks / Eielson area. Site Point was declared operational just 1 month earlier making it the first site in Alaska.
Email webmaster@a-2-562.org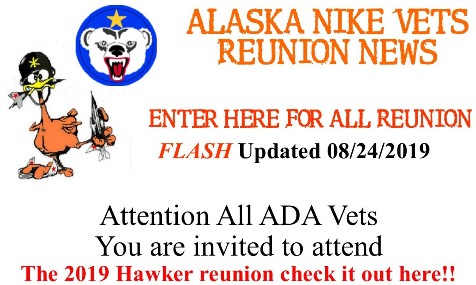 Reunion 2018 is now history, at that reunion those of us who had been putting together reunions since we started noted we would be stepping down and asked for others to take over. Sad to say as of now no one has stepped forward to do so.
Pictures of Reunion 2016 have not been posted in our reunion section if we receive photos from 2016 we will add that page to the site. Also explore previous reunions as we have photo tours of all.